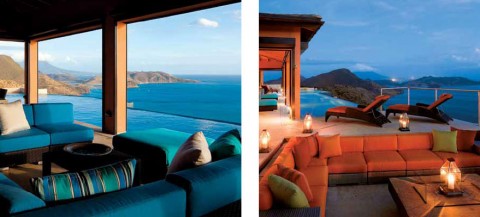 St. Kitts once-remote Southeast Peninsula, which has established itself as the hottest of Eastern Caribean development hotspots, has been transported to new levels of luxury and island sophistication—a quantum leap that comes courtesy of a home with a view.
That home is a cliffside villa called—aptly enough— SeaforMiles.
The recently completed villa, located on the upscale Sundance Ridge development just north of popular South Friar's Beach, is an almost dizzying mix of local and international expertise in its creation and execution.
Its 16,394 square feet of meticulously crafted, noexpense- spared living space embraces a smorgasbord of design and art influences that somehow mesh seamlessly. The international array of creative talent whose works are on display includes Gerald "Swah" Phillip, a master St Kitts stonemason, Keelin Kennedy, an award-winning American designer of concrete furniture, Kate Spencer, the distinguished St Kitts artist, and Roche Bobois, the fabled French furniture house.
As developer-contractor Ron Fish put it: "We had people from all over the world coming here doing things on this house."